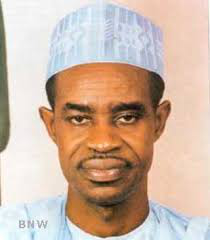 Adamawa State Chairman, Justice for All, Mada Ikwurunyi has fired yet another shot at Former Governor of Adamawa State, Mr. Boni Haruna, saying Adamawa residents are victims of his incompetence.
He also warned the people against "reinforcing failure" through re-electing "ineffective and incompetent government of the PDP into power".
The elder statesman accused Boni of having a "poor understanding" of the dynamics of internal politics.
He spoke on Thursday at the get to together ceremony to brainstorm on the outcome of the recent governorship election that was declared inconclusive by INEC.
"The first lesson I learnt in my military training is to never reinforce failure. What we have now is a failure, trying to get together and wrestle power from Bindow at all cost" he said.
"Never reinforced failure. Let failure be failure. And if you do not see what you should see, we all witness Boni Haruna eight years as governor, what project Boni can point to that he has done, apart from being remotely controlled by his political godfather that meek Adamawa dry under his watch as governor.
"Those of you who are into business know that by now it is been better since we have an effective government. The truth is this – there is no government that can be described as incompetent more than Boni's government in Adamawa history.
He warned Nigerians not to get carried away by the fresh air slogan of Fintiri as the money left behind by Nyako's government was what Fintiri falls back to after the removal of Nyako from office, now that the revenue is slim where do the handlers of the fresh air advocate thinks they will get money from or they think billions of naira will wait for them like 2014?
"The former governor cannot be respected by some people like us because, for him to have joined those that he harbored animosity towards since come back from political oblivion is a shame" he said.
"If Boni's claim is anything to go by then why are they afraid of fresh election? They claimed that what happens in the last election is referendum, if the PDP thinks they are popular they should be ready to contest another poll, after all Nyako contested election many times and he won.
"The last rigging of the PDP in Adamawa State will not stand, is it a coincident that the votes difference between the APC and the PDP in the presidential election is same with the governorship election even with the low voters turnout, how can 32000 votes difference resurface again in the governorship election?
"Boni was a minister for youths in this country, how many Adamawa youths has he empowered or gave employment to?
The group advises Boni to bury his head in shame for calling Bindow's government incompetent.