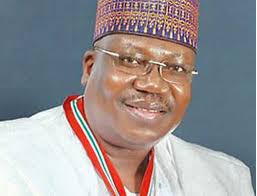 A Chieftain of the ruling All Progressives Congress (APC) in Adamawa State, Hon. Dahiru Hammandikko, has called on all the senators elect under the platform of the party to rally round Senator Ahmed Lawal and massively vote for him to serve as the next President of the Senate in the forthcoming 9th Assembly. Hon. Hammandikko gave the advised in an interview with pressmen in Yola the capital city of Adamawa state.
Speaking on the benefits of having Senator Lawal as the next Senate President, he said it was because of his reputable character. Noting that Senator Lawal is a transparent, honest, committed; dedicated dynamic and a trustworthy man who has the interest of developing the nation at heart.
Hence, he maintained that if elected Senate President believed he will work hand in hand with President Muhammad Buhari to move the country to next level.
Therefore, the party's stalwart urged others who are nurturing interest for the number three seat of the nation, to sheath their swords and support Senator Lawal for the progress of the country.
He added that another thing to be considered was avoidance the of the 8th Assembly mistake. Therefore, he appealed to all APC's senators elect to unite themselves and support Senator Lawal to enable them move the nation forward.
Moreover, he expressed confidence that with Senator Lawal as Senate president, believed it will not be a business as before where senators have to be lobbied with 'Ghana must go" before passing some important bills into law.