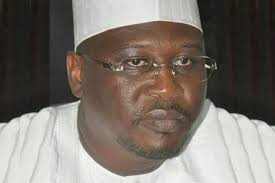 The list of appointments into Adamawa state local government caretaker committee released on Tuesday, is enmeshed in controversy as the name of one of the appointee, said to be dead, appeared on it. Reuben Jauro from Mubi South local government. The dead person alleged to be on the list is Reuben Jauro(Mubi South) The list had a total of 5 persons. Mr. Ismail Ballu Gella expressed outrage over the development on his Facebook page.
also reacting, Dasin in a statement said the development has further confirmed the party's position that the PDP administration is completely confused, disorganized and grossly incompetent, adding that Adamawa residents can now see the level of recklessness and shoddiness inherent in the management of the state by the ruling party. Dasin noted that the situation has further exposed why the state's economy has been in shambles in the past 34 days, saying a government which cannot tidy up a routine issue of appointment for over 33 days cannot successfully take on complex issues of governance.

"Adamawa can now see why the state's economy has been in shambles in the last 33 days. When we say that this government is completely inept, some Adamawa residents did not know to which level, but now they do. "This inability to tidy up a simple issue of list of appointees has completely exposed the extent the PDP government is bereft of simple organizational skills to manage a state like Adamawa, which is in dire need of development.
"How on earth can a government that cannot compile a common list, handle intricate issues of state planning and budgeting; issues of health, education, agriculture, infrastructure and management of the huge civil service?
"How can they possibly initiate and successfully implement national and international instruments for state development in today's competitive world? "This also explains why nothing has been working under the PDP government in Adamawa. Furthermore, the mix up in the list also exposes the corruption in the PDP government.
"The fact is that the government of our dear state has been in wrong hands in the last 33 days and the situation will continue to worsen unless the state is rescued from them soonest," the statement read.