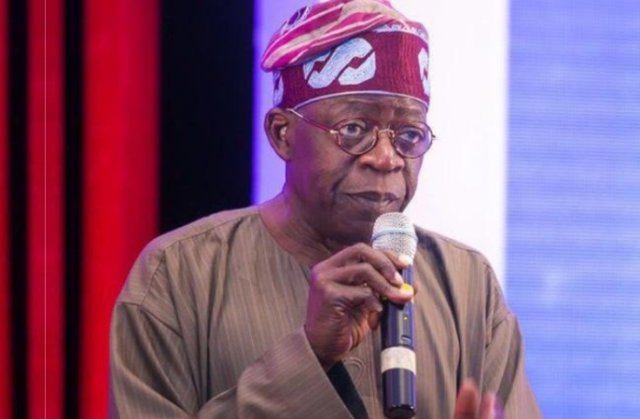 An All Progressives Congress (APC) Chieftain in Adamawa State, Hon. Dahiru Hammandikko, has stated that the former Governor of Lagos State Alhaji Asiwaju Bola Ahmed Tinubu, deserve the Nigerians support most especially the northerners to be the next President of the country.  Hammandikko in an exclusive interview with our correspondent in his resident at Yola.
Reeling out the reasons why Tinubu should be the next president of Nigeria, the APC stalwart said "right now Nigeria did not have a qualify candidate that will take over the leadership of the nation from President Muhammadu Buhari than Tinubu because of his vast experience and knowledge.
He noted that the reason why he was championing the campaign now was because he want every Nigerian to know that nobody in Nigeria knows the economic with their yearnings and aspirations like Jagaba of Nigeria, so it is high time for us to support him come 2023 general elections.
Recalling on what the APC National leader did that warrant the northern support in 2023, Hon. Hammandikko, said "in 2007 Tinubu formed and financed a political party for Alhaji Atiku Abubakar to contest for presidential election who happened to be a northerner." "In 2011, he also formed, financed, stood firm and campaigned vigorously for Mallam Nuhu Ribadu to contest for presidential election a northerner too."
"In 2015, when history was made in Nigeria's political landscape and for unity to preserved, Sen. Bola Tinubu equally stood firmly with General Muhammad Buhari (rtd) and ensured that Buhari won first the APC's primary election and then the general elections where he defeated the incumbent President Goodluck Ebele Jonathan."
"Moreover, in 2019, when all Nigeria political parties merged and formed alliance in order to wrestled power from the ruling APC.  Ahmed Tinubu deployed his best ideas and techniques to ensure that APC did not only won the election but won with wide margin."
"Again, the current leadership of the National Assembly both the Senate President and the Speaker of the House of Representative, both emerged as number three and fourth citizens with the help of Jagaban Nigeria," he added.
According to Hammandikko, Mr. Tinubu has done so many things to the other regions of Nigeria which no politician has ever done that he merited their support. Hence, he boasted that the National Leader of the All Progressives Congress deserved to be Nigeria's next president because of his patriotism, honesty, transparency; justice, foresight, commitment; vision, openness and gentility.
He suggested that let them rally round him come 2023 because of his wealth of experience, knowledge and selfless service to humanity and as well familiarity with every region of the country's problems.