Governor Fintiri's critics on Monday carpeted his government for allegedly lying about granting financial autonomy to the 21 local governments of Adamawa state.
The claim by the governor that financial autonomy was granted to the 21 local government councils under his watch is false, THE FINDER check has shown.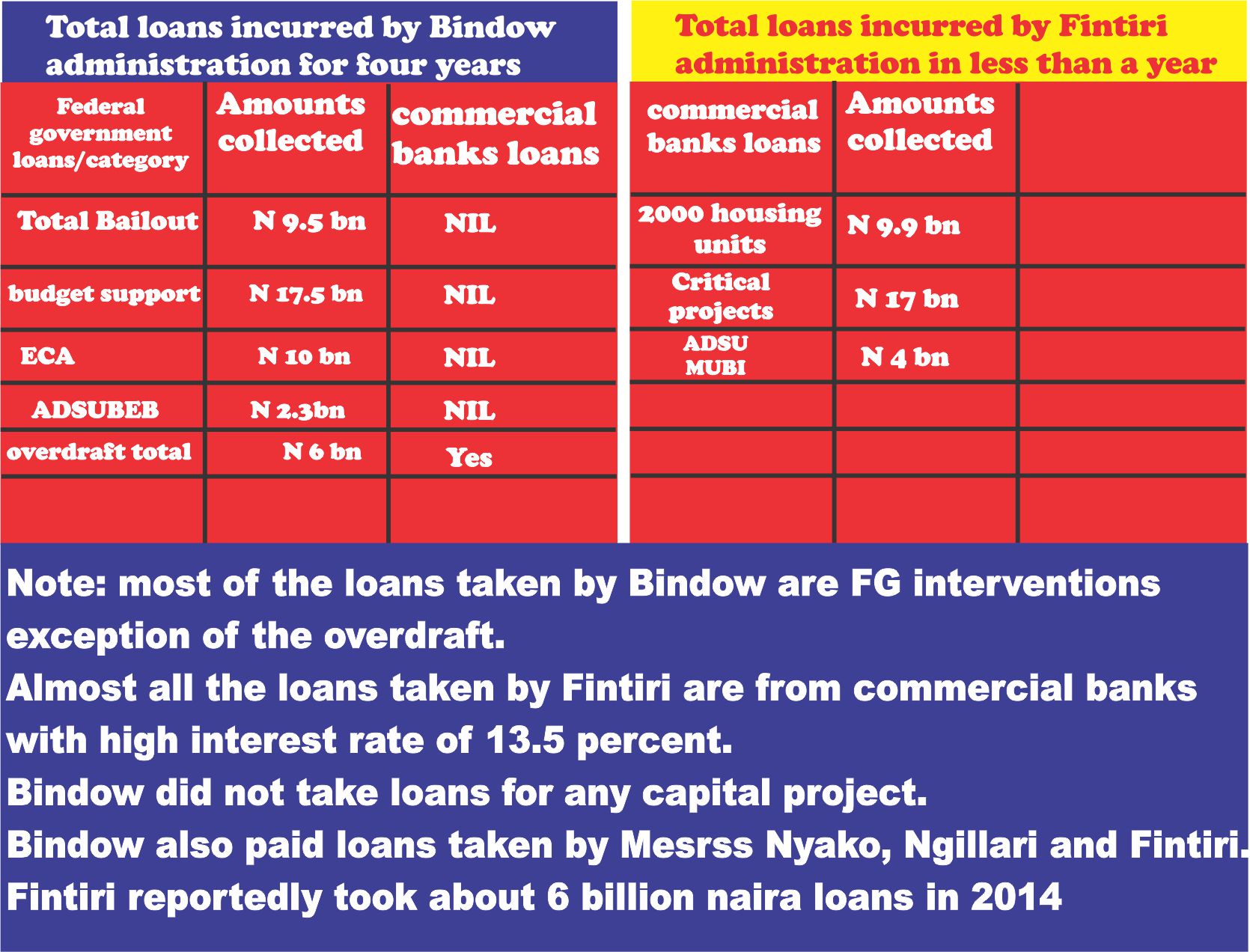 Reacting to the alleged declaration by the governor, a former National vice chairman, northeast of the All progressive Congress (APC), Umar Duhu accused Governor Fintiri  of claiming the glory due to President Muhammadu Buhari that orders the NFIU to monitor the spending of all the 774 local governments in Nigeria and to equally lessen the interference of the state governors in local government administration.
Duhu in a statement send to THE FINDER, the APC scribe said the false claim made by Fintiri regarding giving financial autonomy to the 21 local governments in Adamawa state gave credence to their earlier claims of a secret plan by the Fintiri's administration to cajole Adamawa residence into celebrating zero achievement as one year of Fintiri's administration draw near.
"I listened with dismay when Fintiri on Channels TV when said he granted full Local Government autonomy in Adamawa State. This is in total aberration of the facts of the matter. Nigerians can no longer fool with rhetoric's and lie by any public officer when we are in the technology age, world over.
We will not forget with nostalgia that President Buhari grant Local Government autonomy to all 774 Local Governments in Nigeria vade an instrument on May 13, 2019, through the National Financial Intelligence Unit (NFIU), " directiving that allocation to 774 local governments from the Federal Account Allocation and Fiscal Committee (FAAC) should go directly to Councils Account from as from June 2019 ".
The Presidents directive gave effect to the Local Government Autonomy across 774 Councils in Nigeria. State governors under the Nigeria Governors Forum protested and after several appeals in writing to Mr. President to cancel the order, President Buhari never changed his resolve to make the third tier of governance functioning again, as finance on prime instrument that gives autonomy to any institution world over.
However, how can Fintiri justify his so-called LG autonomy with these brazen stealing from the Local Government vade directives to the Council Chairman through the Commissioner for Local Government and Chieftaincy Affairs to make remittances to some designated Accounts on Monthly basis?
Thus ;
*1. N20m per LGA in April for COVID-19 – Paid to Acct. No. 1001169062 at Keystone Bank.
N3.5m per LGA for Renovation of Govt Lodges – Being paid Monthly into Acct. No. 1001169062 at Keystone Bank from July 2019 to April 2020.
N20m per LGA as Joint Project/Security 20m – Being paid Monthly into Acct No. 1011284469 at Zenith Bank from July 2019 to April 2020.
N286,500 per LGA for Maintenance of Governors Vehicle – Being paid Monthly into Acct No. 2022897039 at First Bank from July 2019 to April 2020.*
Are these not things that, we should all rebuke when LGAs in Adamawa State have to contribute monthly for the servicing of governors official vehicles?
Anyways, that is the Local Government Autonomy Fintiri government guaranteed for LGA's in Adamawa State.
It is also laughable when Fintiri said Governor Bindow did not do anything on Local Government Autonomy. Please, ask him, how can Governor Bindow do nothing on nothing?
On the issues of Salary payment in Adamawa State, it is on record that, there has never been a month Civil Servants in the State were not paid their salaries as at when due by the Bindow Government. Ever the backlog from the Local Government Councils salaries arising from the previous PDP government in the State which Fintiri was a part of, was fully paid by Governor Bindow.
I therefore hold that, when a chief executive of a State must speak to any media, he should speak the facts else, no one will take Adamawa seriously but, with disdain "Again, we have no objection whatsoever to the Muslim Public Holiday but our concern is that in a secular society as enshrined in Section 10 of the Constitution, the responsibility of declaring or announcing a religious Public Holiday is vested in the Federal Government and such responsibility is sacrosanct."