CSO, FINDER Drags Bashir Ahmed led COVID 19 committee to Court over COVID-19 Palliatives
A civil society organisation, Centre for leadership evaluation and accountability forum and The Finder Newspaper has filed a lawsuit at the Federal High Court, Yola to order the Adamawa state government and the Bashir Ahmad led covid 19 committees over COVID-19 palliatives in the state.
The group asked the court to order the Adamawa state government and Bashir Ahmad led Covid 19 committee to account for the donations and the utilisation of all COVID 19 palliatives received from FG, Corporate organisations and Captain of Industry and to publicly identify and name Adamawa residents who have so far benefited from any cash payments, cash transfers, food distribution and other reliefs and palliatives during the lockdown in Adamawa state because of COVID-19.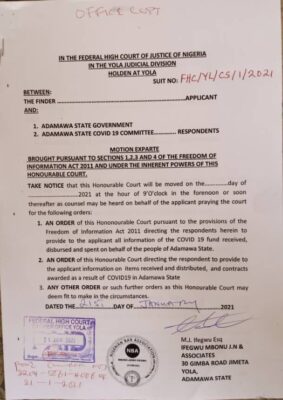 CLEAF/The Finder in a statement yesterday said the suit followed its Freedom of Information requests dated 5 January 2021, expressing concern that "millions of the state's poorest and most vulnerable people have not benefited from the announced palliatives, donations, reported cash payments, cash transfers and other reliefs."
The suit number FHC/YL/CS/1/2021 filed last Thursday on behalf of The Finder Newspaper by its counsel, M.J IFEGWU MBONU J.N and Associates, read in part, "By a combined reading of the FoI Act and the African Charter on Human and Peoples' Rights, Bashir Ahmad led COVID 19 committee ought to be directed and compelled to make public details of those that have benefited from COVID-19 funds and donations.
Any perception that the reliefs, funds and donations are not reaching intended beneficiaries would undermine public trust and the integrity of the entire processes and modes of distribution of reliefs/benefits to these Adamawa residents.
"Both the Adamawa state government and Bashir Ahmad led COVID 19 committee have a legal duty to ensure that information on the details of those who have so far benefited from COVID-19 funds and donations is released to The Finder upon requests, and that the information is widely published. Yet, both have completely ignored Finder's requests."