Dr. Lami Aminu Celebrates Eid-El-Kabir with Fintiri and Nigerians
As Muslims commemorate Eid-El-Kabir to remember Prophet Ibrahim's great sacrifice, Dr. Lami Aminu, Provost, Adamawa State College of Nursing and Midwifery, has sent a good-will message to Governor Ahmadu Umaru Fintiri of Adamawa State and all Muslim faithful across the country.
The college's provost stated in a press release:
"On the auspicious occasion of Eid el-Kabir, I express my heartfelt congratulations to you as Adamawa State's governor. This joyful event serves as a reminder of the principles of sacrifice, compassion, and solidarity, and I am honoured to join the people of our state in commemorating this momentous anniversary.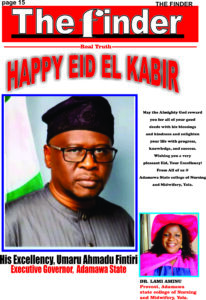 Eid el-Kabir has a unique place in the hearts of Muslims all over the world because it recalls Prophet Ibrahim's willingness to sacrifice his son as an act of obedience to God. It is a time when family and communities gather to worship, exchange sincere greetings, and participate in charitable deeds. This festival's attitude of charity and cooperation is incredibly inspirational.
Our state has made amazing progress and development under your distinguished leadership. Your commitment to our people's well-being and prosperity is reflected in the various projects and programmes that have been adopted. Your dedication to developing inclusivity and social cohesion has created a sense of oneness and harmony among our state's different groups.
On this wonderful occasion, I want to thank you for your efforts to promote peace, security, and economic stability. Your administration's emphasis on infrastructure development, education, healthcare, and job creation has had a significant impact on people's lives, enabling them to thrive and reach their full potential.
Let us reflect on the ideals that this holiday reflects and endeavour to uphold them in our daily lives as we join with our loved ones to celebrate Eid. May this auspicious event deepen our people's links of peace and solidarity, paving the path for a successful and harmonious future.
On the wonderful occasion of Eid el-Kabir, I once again express my deepest greetings to you, Governor Fintiri, and the entire community. May this event bring everyone many blessings, happiness, and serenity.