JUBILATION IN ADAMAWA COMMUNITIES AS REPS ASPIRANT DONATES ELECTRICITY TRANSFORMER TO GIREI, YOLA NORTH AND YOLA SOUTH
An Adamawa State House of representative aspirant contesting under APC, Honorable AbdulRauf Modibbo Girei, has donated electricity transformers estimated at over N50 million to five communities in the three Local Council that made of his constituency, Honourable Abdulrauf Girei, has expressed the readiness to give the communities in the constituency effective representation if elected come 2019, noting that despite hearing complaints from his constituency late, he contributed to cushion the hardship the people are facing,  he told Journalists that  he would not let the constituents down if given the mandate to represent them in the national assembly in 2019. Abdul Rauf, who stated this in Lakare recently, while donating an electricity transformer to enhance electricity distribution to areas around Bole and other areas, assured the people of the constituency of more service delivery.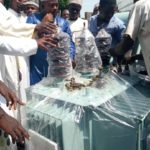 Speaking to our correspondent a resident of Bole who identify himself as Alhaji Dauda Baro said "Despite the economic realities in the country, an aspirant who has not step foot in the national assembly as member will dole out millions of naira to wipe away our pains, we cry to our member that is currently representing us in the national assembly, Hon. Lawal Abubakar, the speaker ADSHA, but they turn deaf ears to our crying, the time has come to effect change. Insa Allah AbdulRauf will get all our votes in Lakare and Bole, what this Young Man has done will go a long way to change the perception of our community towards Bindow's and Apc government in Adamawa, infact we are returning Bindow to Dougirei Government House in 2019. Abudlrauf told the constituents that "If I joined my colleagues in the ninth national Assembly, I can assure our people that they will not be deprived of effective representation and service delivery," The communities include the Lakare/Bole, Njoboli, ABC, Yola, Ngurore, Yolde pate, Limawa, Girei, Girei 2 community at Yola South and Yola North community in Yola, as well as, Ngurore community in Yola North, Bole community and Lakare community, both at Yola South. The formal presentation of the transformers took place at the state capital in Adamawa State. The Finder Newspaper publish how the community send sos to the member representing Yola North, Yola South and Girei,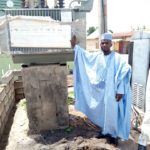 Hon. Lawal Abubakar and he told this news medium that he has done a lot of things to Bole community and that it is not the duty of Reps member to donate transformer to his constituency, but to make laws. Abdul Rauf, a House of Reps aspirant member from Yola South Federal Constituency, explained that the gesture was in fulfilment of the promises he made to callers from the five communities According to Abdu Rauf, over 15 communities in YolaNorth, Yola South and Girei, communities in Adamawa central senatorial district, have benefited from his distribution of electricity transformers. Chairman of Lakare and Bole community, Abdulmumini Mai angwa said "Bole community has never experience light since the return of democracy in Nigeria and Adamawa, we appreciate the gesture, pledging that all the benefiting communities will mobilize support for the actualization of his House Reps ambition in 2019.