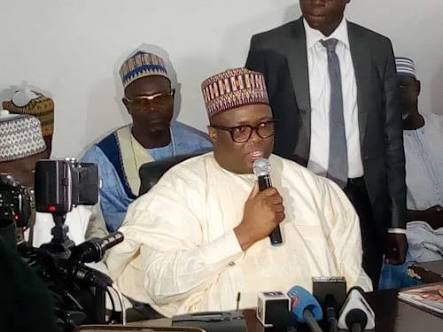 The social media was awash yesterday over a purported court adjournment for judgment in the case of Buhari inlaw, Halilu Ahmed alias Modi against Gov. Bindow of Adamawa State,  the happening in the court yesterday was quite different from the fake news going around and bar stripe on AIT news, the case was billed for yesterday, and Waec was invited to testify.
Mind you the case that was heard yesterday was that of a civil society verses Bindow not Modi as some people posit it in the social media, when Modi's case was called upon, there was a shouting match between the lawyers of Gov. Bindow and Modi's Lawyer and that force the Judge handling the matter to adjourned Modi's case indefinitely and no date was given by the court.
The case that was mentioned was that of the civil society, a source in the Federal High court confided in this news medium that, the funny aspect of this civil society case is simple, one, these guys are interloper and have no locus to institute the suit against Bindow and finally the Governor has maintain before the court that the waec certificate brought before the court is not his, and that waec is not part of the credentials he submitted to Inec in the cause of screening him.
It is clear now that even if the court rules on the civil society case with the Governor, the ruling will be of no effect, because the said waec result before the court for adjudication is not submitted to INEC, so the case is already dead on arrival.