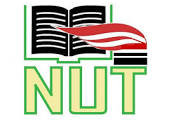 No fewer than seven eight people in Adamawa state have benefitted from the teacher's welfare scheme monthly contributions, the State Chairman of the Nigeria Union of Teachers, Comrade Rodney S. Nathan, disclosed this while presenting the cheques  to the beneficiaries at the state NUT office in Yola. While presenting the cheques to them, Comrade Nathan advised the beneficiaries to used the money judiciously and start a meaningful venture that will be profitable to them, families and society at large.

According to the Chairman, the categories of people who benefits from the contributions are: retirees, deceased next of kin and those that have transfer their service from teaching profession. However, he warned them that they should not give a dine to anyone that would approach them as a form of gratification in respect to their payment. Maintaining that "these are your legitimate money which was deducted from your hard earned salaries.
Therefore, do not be deceived. In case, if anyone disguises him/herself in any form for you to give him/her gratification before getting your money, don't give him. Confidently, tell him or her that the Chairman said, I should not give you and I will not give you," he warned. Consequently, Comrade Nathan used the opportunity to congratulate those who benefitted from the money and urged those that have yet to get theirs, to remain calm and be patient as the Union is working round the clock to make sure they are paid.
"May I use this opportunity to congratulate you for getting your money today and I will also like to call on those that are yet to be paid, to remain calm and be patient, we are working round the clock to make sure that everybody get his/her benefit," the Chairman pleaded. In their remarks, some of the beneficiaries who spoke to newsmen at the event, showered blessings on Comrade Rodney S. Nathan's led leadership of the NUT in the state.
They unanimously appealed to him to enhance the monthly contributions to enable teachers retired home with some reasonable amount of money and as well try and tackle the menace of teacher's retirement without getting their pension on time.