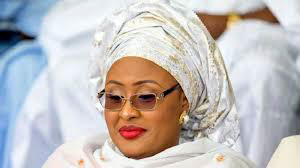 Elections have come and gone but politicking is not yet uhuru in Adamawa state, the home state of the first lady, Aisha Buhari. Politics in Nigeria is full of ironies, as eye service and scapegoat dominates our political hemisphere, it sounds funny as Abubakar Atiku, the PDP presidential candidate in the last presidential election was criticised for establishing privately own university popularly called American University of Nigeria in Yola, Oshiomhole during campaign accused Atiku of been a selfish politician.
Today, Aisha Buhari has proposed the establishment of her own private university and some Adamawa people are applauding. It is another irony that Aisha supported the candidate of the PDP in the last governorship election against the candidate of the APC and some people in Adamawa state and the APC national leadership are comfortable with her decision. It is of common knowledge that Okorocha, Amosun, Akeredolu among others had been sanctioned for anti party activities during the last elections, but no one is talking about the prominent role played by the first lady that midwife into throwing up opposition party as winning the last governorship election in Adamawa.
The likes of the disgraced former SGF, Lawal, Buba Marwa, Suleiman Omarana and Gundiri played active anti party that pave way for same voting pattern of voting for the PDP throughout the last general election, the trio of Babachir, Marwa and Suleiman Omarana lost their polling units to the opposition, Peoples democratic Party, openly they canvass votes for the opposition candidate, but hell was not let loose, with what happen to Gov. Bindow in 2019, it means different rules is applicable to different individuals.
It baffles some us that that Buba Marwa could play a ghetto politics of making unguarded utterances against Bindow. Bindow is not responsible for the decline in the country's economic growth, nor is he responsible for country misfortune, Marwa's assertion that poverty has envelope Adamawa under Bindow's watch is another fallacy. If Bindow's only sin is not to share the state resources with the mighty, let wait and see if Fintiri will satisfy those that claim they brought him to power.
Mrs. Buhari's claims that out of school children is on the increase in Adamawa is a fallacy, was it after the governorship election in Adamawa that the first Lady come to this realisation? What happened to Almajiri Schools established by Jonathan in Nigeria? Why has it been abandoned? What is the fault of Bindow if there is a rise in out of school children? What parameter has the first lady used to arrive at this conclusion? Out of school children litters the streets of Nigeria and not peculiar to Adamawa State alone, it is irony is that out of schools children are on the increasing daily in Nigeria and Adamawa is inclusive, some prominent indigene of Adamawa State choose to keep their selves busy in power tussles with Gov. Bindow not minding how to ameliorate this ugly trend of decline in school registration in Adamawa.
Yet another irony is that, while APC lost presidential election to PDP in Adamawa, Bindow was accused of anti party but when the first lady openly supported Fintiri, it became normal.
It is normal that haters of president Buhari are now the friends of the First lady. Our prayers are let's Fintiri honour her and praise sing her for galvanizing support to him. But in no distance time what befell Bindow will surely meet up with Fintiri. Bindow was everyone bride in Adamawa State in 2015 immediately after the election, things fell apart six months into Bindow's tenure. Our concern is that if Atiku will be criticized for establishing own university, Aisha's proposed university should be for the less privilege and the University should be open for the less privilege and out of school children, hence no need of opening another private University for the purpose of making profit by the first lady.