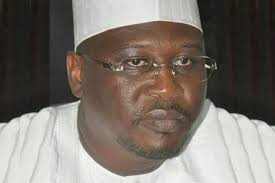 The Chairman Adamawa united for change, Alhaji Musa Dasin, has accused Fintiri's transition committee of suppressing facts and same time inflating  debt profile of Adamawa State in order to hoodwink unsuspecting members of the public to believe that Bindow has plunged the state into huge debt, "we see this as deliberate plots to tarnish Bindow image through the imaginary report submitted to Adamawa Gov-elect Umaru Ahmad Fintiri.

Dasin chided Fintiri's committee for the hatchet job carried out just to crucify Bindow having seen that their failure will be pronounce from 29th May, "election has come and gone, but this fresh air advocate are still campaigning after they won election by propaganda, they believe propaganda will still help them govern Adamawa.
"we challenge Fintiri's transition committee to explain to the people how they arrived at the mystery 115 billion naira they claimed is the debt profile of the state under Bindow's watch as governor, they should give the people breakdown and they should tell the people what was the foreign debt before Bindow took over and what was the local debt in before the advent of Bindow tenure".
"We expect this type of report because a former governor of the state, Mr. Boni Haruna raised alarm few months ago that Adamawa debt profile under Bindow is over 150 billion naira, look how the committee also key into that allegation by coming out with similar figure".
A statement signed by Dasin's Special Assistant on Public Communication, Mr Mohamed Shaibu, said it was strange that Fintiri who promised to address security situation in Adamawa, promised to pay 32000 minimum wage, pay waec and Neco fee for indigenes, also to clear pension and gratuity of both state and Local government, payment of leave grants could deviate from his campaign promise to chase shadow means he Fintiri has already envisage failure".
The statement further reads: "There is no gainsaying that Fintiri has got his priorities wrong and has acted in a manner that suggests a total disregard for all the promises he made to the people.
"Or how else does one explain a situation where a governor waiting for inauguration will engage in accusation and counter accusation on Gov. Bindow administration, instead of focusing on how to pay salary without taking  overdraft from banks, all the governor elect is doing is to waste time and resources on an undeserving propaganda aimed at dehumanising Bindow".
The statement alleges that the Gov-elect had "completely lost control of the "fresh air" he promised Adamawa people."
"It is now apparent that those that promised the people fresh air are grossly incapable of doing so. The gov-elect body language has shown he lacks what it takes to implement the campaign promises of pay 32000 minimum wage to workers," the statement said.
Dasin noted that no significant economic or political progress could be achieved in Adamawa until the issue of blame game which Adamawa Gov-elect want to get involved with is resolved.