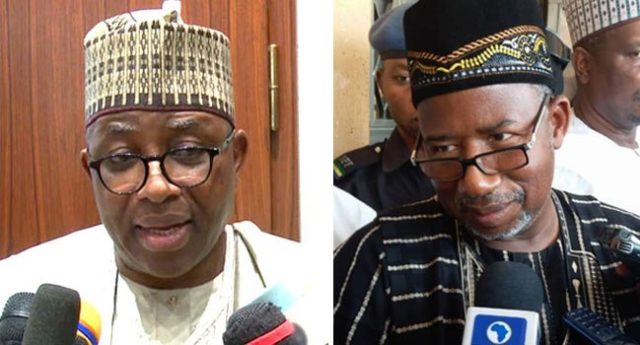 A Civil Society Group, under the aegis of Nigeria Civil Society Desk, on Wednesday said the newly elected governor of Bauchi state, Bala Mohammed, was on a vendetta and witch-hunt mission against his predecessor, Mohammed Abubakar.
The group, which urged him to concentrate on why he was elected as governor of Bauchi state in the 2019 election.
The group, in a statement by its National Secretary, Ijewa Zeb Obioma, National Publicity Secretary, Comrade Nwokolo Peter and National Coordinator, Emeh Friday Eleojo said that it was unfortunate that Bala Mohammed kicked off his administration with a rancorous and chaotic state legislature and also with questionable process of leadership election.

"Upon assumption of duty, he has wadded into governance with an evil mien of vindication, witch hunt, and victimization of his predecessor, former Governor M.A.  Abubakar.
The group, however said, "As a foremost civil society activist body with credible credentials of playing supportive roles within the system to entrench good governance, equity, justice, and promotion of the anti corruption stance of the President Muhammadu Buhari led government, we are not opposed to probe of any sorts.
"As much as we advocate for financial prudence and economic consciousness in leadership circles, we strive to ensure such virtues are not pursued in a pseudo manner; and not necessarily by people with track record of notorious corruption issues that may already be in the corridors of the anti corruption agencies.
"We insist that being just sworn in as the executive governor of Bauchi state, it is not yet enough time for Governor Bala Mohammed to have made a thorough check of the books and records of the office he just breezed into. The way and manner he set to attack his predecessor suggests a man who has long borne ill will against another.
"This leadership attitude is well away from what the Nigerian nation needs now to move us from where we are to where we are supposed to be. This ominous and disaffection leadership spirit is not in tandem with our collective desire to move forward from the hindsight of the need for continuity in office."
Questioning the intention the governor, the CSO said, "What Bala Mohammed is aiming at now is to find a way to discredit whatever good performances his predecessor had put in place, so as to find a smooth landing to rubbish existing works and contracts for an avenue to award new ones. This should be discouraged.
"Governor Bala Mohammed should have to learn to be humble in leadership. Going for his predecessor's jugular at this early time when he has not sat properly and acclimatized himself with the real financial, economic and structural situations of the state is a mistake of no mean nature. A brazen show of vindication is not classy at all!"
The group said  the behavior of Bala predicts the fate of a man who was never prepared to win an election or to lead the people.
"We ask His Excellency, Governor Bala Mohammed to desist from this ugly and unhealthy trend. Our moral principle has always been hinged on the indispensability of checks and balance mechanisms in the system meant to curb the rising trend of corruption related matters in leadership places.
"As much as the present administration is serious with ridding the nation of corruption matters, the people perpetrating this menace in the Nigerian society keep devising new methods to beat the already established checks and balance systems. This does not call for the hypocrisy which some Nigerian leaders are attaching to the fight against corruption.
"The bottom line here is that he should not expect the Nigerian nation to be fooled by this sudden show of Puritanism. Those who want to go to equity should first check themselves well if their hands are clean, because it is foolhardy to want to go to equity with soiled hands.
"For the avoidance of doubt, we recall that the allegations, which the current governor of Bauchi state, His Excellency, Distinguished Senator Bala Mohammed is burdened with," the CSO said.