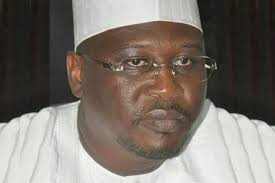 The residents of Jimeta in Adamawa state woke up to the ugly story of the kidnapped of Mr, Emmanuel Piridimso, the permanent secretary, Ministry of Mineral Resources.

The chairman Adamawa First Initiative, Mr. Ibrahim Luka described the incident as unfortunate under the government of Gov. Fintiri that repeatedly promised Adamawa residents to sleep with their two eyes close, Ibrahim spoke to this news medium on the state of insecurity in Adamawa.
"It is unfortunate that a permanent secretary in Adamawa state will be kidnapped like a chicken from his residence in Jimeta, some of us raised alarm when Fintiri's administration through his spokesman, Solomon Kumanga reel from series of achievements of Fintiri within few weeks in office and gave the government pass mark on security.
With the happening where a permanent secretary is being kidnapped in Jimeta it shows that another campaign rhetoric of the PDP in Adamawa has failed again, if not how can one explain that this is the first time in the history of Adamawa state that anyone will be kidnaped in Jimeta metropolis in the state.
It is an irony that such is happening under watch of those that made series of promise to the electorates, it baffles that the house of the kidnapped permanent secretary is a stone throw from his house to Jimeta division and also to NSCDC office in Yola.
While we sympathise with the immediate family of the kidnapped permanent secretary in Adamawa, we want the residents to know that all security agencies in Nigeria are owned and control by the FG, it is with dismay that the current administration of Fintiri that severally criticise Sen. Bindow for doing nothing about security in Adamawa could fold it arms while a permanent secretary kidnapped in Jimeta, this has never happened to Bindow's administration.
The reality has beckoned to Fintiri led state government that politics is different from governance". Luka said