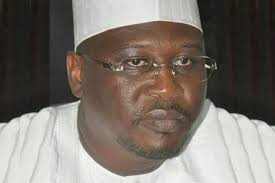 Civil servants in Adamawa have described as unfair, wicked and inhuman, situations whereby they continue to suffer deduction from their monthly salary under the administration of Gov. Fintiri of Adamawa State.
They specifically accused governor Fintiri of failing to implement the much touted local government autonomy and the 32000 naira minimum wage as promised by the PDP administration in Adamawa state despite NFIU guidelines, local governments in Adamawa is still under the clutch of state government in Adamawa.

Civil servants in Adamawa state expressed feelings as local government workers gets June salary with deductions ranging from 5000 to a thousand naira from their June salary.
Mr. Aliyu Mohammed said they were not unhappy that Fintiri's government  that promised 32000 minimum wage to workers went ahead to effect deduction from the little take home from their salary, a situation he term as "barbaric and unfortunate".
They alleged that workers in the 21 local government councils and those of the State Universal Basic Education Board experienced illegal deduction of 1000 from their June salary.
The civil servants also said it was unfair that pensioners in the state were being owed many months of pension arrears and gratuity despite promise by the PDP administration led by Fintiri in Adamawa.
Aliyu said, "The state government failed to fulfill its promise of paying us minimum wage and local government autonomy has not been implemented, we will appreciate further commitment to ease the difficulties if Fintiri keep to his words of paying the 32000 minimum wage."