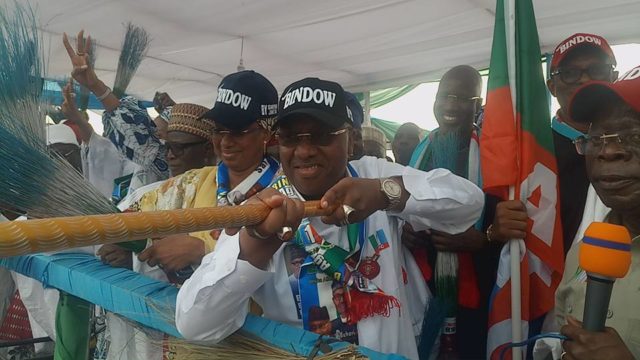 The claim by the speaker, Adamawa state House of Assembly, Aminu Abbas that Senator Jibrilla Mohammed Bindow took 6 billion naira loan after election and fail to pay workers is false, an investigation by THE FINDER has shown.
Also untrue, our findings show, is Mr. Abbas claim that the loan was taken by Senator Bindow after the governorship election in Adamawa.

The speaker in his controversial statement to the press had, among other allegations, accused Senator Bindow of taken 6 billion naira loan without paying workers.
But THE FINDER Newspaper can report authoritatively today that Mr. Abbas Aminu was economical with the truth as far as this particular loan is concerned.
Senator Bindow took 5 billion naira loan from united Bank for Africa to pay local government workers, health workers and teachers, not the 6 billion naira loan as alleged by Mr. Aminu Abbas.
In documents sighted by this news medium, Bindow took 5 billion naira loan from United Bank for Africa (UBA), the 5 billion was not collected or transfer to Adamawa state government account, Bindow ordered the bank to directly disburse the loan to the workers account without any interference, which all the workers collected their salary arrears prior to the 2019 general election.
CONCLUSION: Mr. Aminu Abbas statement to the press does not support his claim that Bindow took six billion naira loan after the election and fail to pay workers.
Documents reviewed by this newspaper as well as interviews with those who should know also indicate that the only loan taken by Senator apart from the statutory loans (bailout by the federal government) was 5 billion naira from UBA and it was disbursed directly to workers account.
According to a source with the bank, "Zenith Bank gave Adamawa state government under Bindow 1.2billion naira every months to augment the shortfall in salary payment, Bindow was given overdraft in the month of March, 2019 but due to some certain interest, the bank denied Bindow access to overdraft of another 1.2 billion naira in the months of April and May to pay the two months' salary, the bank deducted 1.2 billion and left the balance of over 3 billion for the month of April and same thing in the month of May".
They also showed that about 6 billion naira was left in Adamawa state account domiciled at Zenith before Bindow left office, according to a source with six billion naira accumulation with the Bank for the two months is enough to clear the two months astounding salary before Bindow bowed out of office, but due to reason best known to leadership of the bank, cheques present to the bank by Bindow administration was not honoured as his tenure draw close to an end.