Remembrance of things past and promises made by the government of Fintiri to the workers of Adamawa state when he was contesting for the office of the governor can be a burden when look critically by those workers relieved of their duty today by the government of Fintiri in Adamawa state. As each day passes the memory distorts, rewrites and reshapes Fintiri's mode of governance to suit our current moods and needs:
History is usefully pliable. As Remembrance day for workers suspended for several months and later disengaged without a single palliative to cushion the effect of hardship most of them have gone through all this days of suspension and finally sacked penultimate Friday, this is a good time to consider how long we should go on remembering.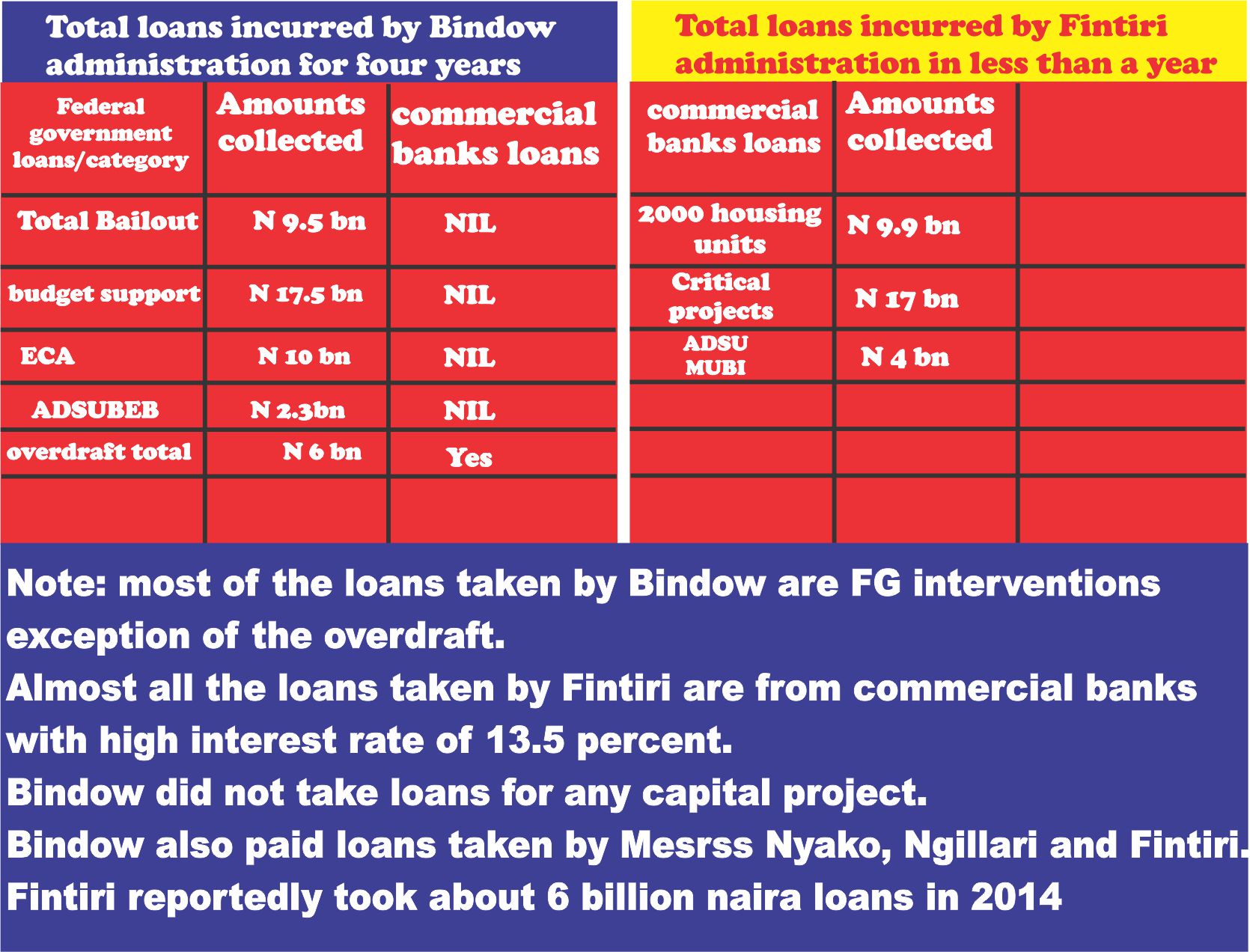 The primary purpose of every government in Nigeria is the security and the welfare of the people, Last year, I remembered how Fintiri made inroad into civil servants of Adamawa state by promising them what he and his supporters called a better lease of life if voted, none of the sacked workers today envisaged a day like this will come when the Lord of the manor theory will be applied to them as most of them had envisaged a better welfare package from the then opposition PDP candidate, Umaru Fintiri.
In some towns in Adamawa since the news broke that letter of disengagement is been distributed to the suspended workers by a government that most of those affected today by the ill-fated sacked by the government of the day in Adamawa expect that since much was given by same voters that betrayed their benefactor, Senator Jibrilla Bindow to vote for a man that they believe has their welfare at heart and that they expect that much is expected from Fintiri's government when he eventually become governor of Adamawa, young men dressed in uniforms stood gravely outside the houses where beneficiaries of Bindow's government that gave them employment to have a fair share of the national cake, only for their hope to be dash penultimate Friday by the welfare government, their vision for better live had gone to the trenches, never to return.
The mass cascade of poppies first installed at the Dougiriei government house in 2014 to mark the suppose good things beginning of the 74 days acting capacity as governor of the state has been travelling the state ever since 2014 and remained in the mind of those that believe that since Fintiri can pay some months salary arrear in 2014 in the peak of Nyako and the house of assembly crisis that culminated into the illegal impeachment of Nyako in same year. It came to a final stop in May 29th this year as the most awaited welfare governor in the eyes of his supporters came into power and rocked their dream of been part of the most celebrated welfare promised made to them by same man they betray their benefactor for (i.e Sen. Bindow) for, why the supporters of the immediate past governor of the state gesture of employment is seen by many as powerful symbols of sacrifice and loss.
Most families in Adamawa affected by this disengagements have tales to tell of grandfathers' and great-grandfathers' roles in both wars – word-of-mouth and family lore passed down the generations – but often coming with handed-down distortions. Memory doesn't last long: few families know of ancestors defending the fresh air advocate will surely remember the bitter pills force down their throat by the present government of the day. There is little memory even of APC and Bindow. As real memory fades, it is time all this artificial memorialising was laid to rest.
There has been an explosion of mainly unwelcome view of those supporting government of Fintiri in Adamawa state, It is also a distortion of fact for anyone to suggest that Bindow directly employed or supervised the list of those employed by any of the state institution in Adamawa state, if I could recalled the role of the governor is to avail waiver to government agency in short of manpower, that Bindow did excellently without any equivocation, I tend to disagree that Bindow instruct any heads of the agency that a waiver is given, to employ some certain people from a particular religion in Adamawa state or any list is given to any head of agency by Bindow's government to employ on the former governor's request.
The fallacy of this present day government of Adamawa state suggesting that people from a particular religion benefit more in the employments of the state polytechnic in Yola is nothing but a day dream, every heads of those intuitions that seek waiver from Sen. Bindow has a religion which will eventually playout when it comes to employments.
For example, waiver was given to different tertiary institutions of Adamawa state, where a Christian head more Christians are employed there through same waiver and where a Muslims head, Muslims benefit more from the execution of such waiver granted by the then governor of the state, Sen. Jibrilla Bindow, I expect Gov. Fintiri to look into all state tertiary institutions granted waiver and see for himself that where Christians head, more Christians are employed more than other religion.
A critical look at the waiver granted to the State University under the current acting Vice Chancellor will unravel the truth if more Muslims are employed by the University than the Christians, same apply to the state college of education, Hong and school of health, Michika, I wonder why the state polytechnic and few other government agency is singled out for such scrutiny.
In as much as we know that politicians used their ignorant followers to divide a country and state along religious line, I disagree entire to some supporters of this current administration of PDP in Adamawa state that suggest that the current government is for religion balance in every appointments and employments, for instance the governor is a Muslims, his deputy is a Christian, the SSG is a Muslim, not forgetting the head of service, Dr. Amos Edgar is a Christian appointed by Bindow, the speaker of the house of Assembly is also a Muslim, there is no gain saying that APC or Bindow believes more in their religion than this current government of PDP in Adamawa as same configuration maintain under Bindow's watch as a governor is what am seeing here under PDP exception of the Chief of Staff to the governor that happens to be a Christian this time around.
I want see a Christian SSG under Fintiri's government and a Christian speaker of the house of assembly then I will agree with the rumour going round and statements made by Fintiri's aide that there was religion imbalance and lack of due process in the appointments that is responsible for the sudden termination of workers given employment by Bindow.
In Adamawa state we have a governor that appointed a Christian as SSG and he is a Muslim and we did not hear this type of noise about religion imbalance that we are hearing from the government of the day, Nyako appointed a Christian as SSG and the speaker of the house under Nyako was Christian, the person of Rt. James Barka but he was not cherish then by the Christians of Adamawa state.
Some see all this religion remembrance as a necessary pacifist reminder of the merciless futility of unlovely war waged by the government of the day in Adamawa against his predecessor by making the Christian believe that the APC is against the Christians. Others see it as a patriotic rallying cry to sacrifice for crown of the office of the governor, with Guides and Scouts marching through towns with flags. Curiously, there seems to be more emphasis on all this nowadays about religion politics in Adamawa than there was when I was young, when politicians used religion in the state to rail road in the minds of the people the experience were more recent and memories personally painful.
It's fine to shake tins for veterans – but surely this year is the time to say goodbye to all that, to look ahead not back for the fresh air advocate if they will listen to my advice.
The ultimate remembrance absurdity was the 2014 impeachment of Murtala Nyako which is seen by many as a maudlin war memorial to animals, engraved: "This monument is dedicated to all the workers that envisaged better days and eventually got sacked by the present day government of him that promised everything good." No, they didn't "serve". Why not put up a memorial to all those sacked by giving them a little token as a parting gift to cushion the pains for those who have been served up on dinner plates to sustain us "throughout time"?
Giving a talk, the contemporary historian Anthony Seldon said too much remembrance was holding us back. Too much remembrance by the Fintiri administration is what is holding the government back up till this moment as little or no progress has been made since the inception PDP administration this time around in Adamawa, Look how wild goose chase engaged in by the Fintiri administration had forced Adamawa state to rethink her identity and her past to create for themselves a new future, while Fintiri, the victor, wallowed in its old triumphs, forever pulled backwards.
Dreams of lost empire were enmeshed in those victories: too little is taught of the dark side of Bindow's government and the wealth built from it – instead there is harping on the actions of the past government of Bindow has slow than down progress and make Fintiri administration lost focus. The problem of the present day government is get her own people into government not religion imbalance as allege by an aide to the governor.
There is no doubt that the numbers of the Muslims community in Adamawa surpasses that of the Christians, even in employments one expect the numbers of the Muslims to outweigh that of the Christians, the Bindow's government and the Fintiri transition committee did well, but this year May 29th should have finally laid to rest all this empty, vainglorious, false-memory memorialising by the Fintiri government and move the state forward.
written by Paul Peters
can reach on paulpet@gmail.com