The recent claim by the permanent secretary in the office of the Adamawa state head of service, Mr. Emmanuel Ibrahim's committee that over 3000 staff employed under Bindow's watch as governor is may not be entirely true, going by THE FINDER' findings.
"Our committee discovered that So far Bindow recruited 3380 out of 7599 employees without following due Process," the Permanent secretary said during submission of his committee report to Gov. Fintiri in government house, Yola.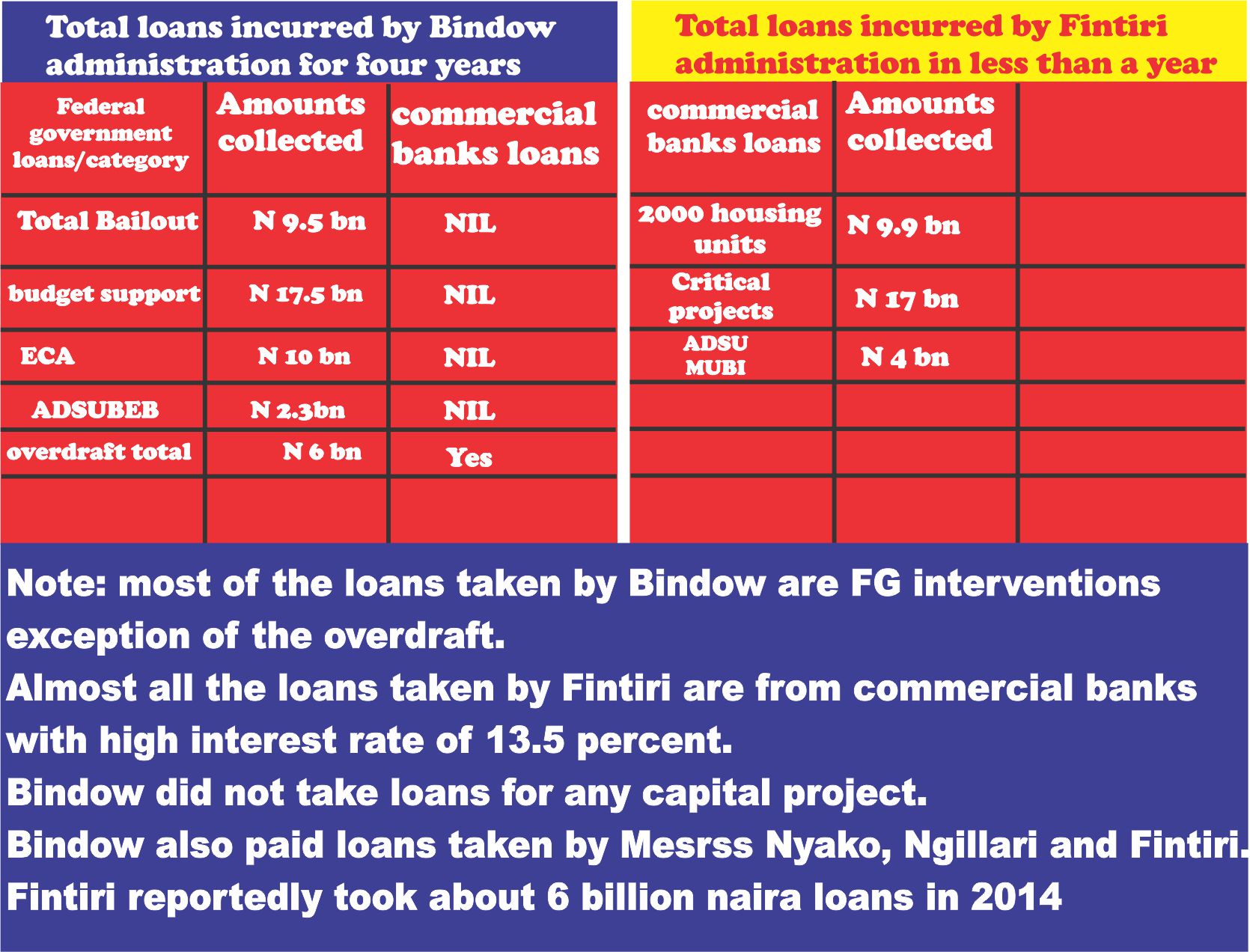 Details of the aggregate releases, Mr. Ibrahim said, 3380 out of 7599 employees without due process.
Regardless, THE FINDER' findings revealed that the process involved in employment is not cumber some as claim by Fintiri's administration, the process of employment in both Federal states civil service in Nigeria includes:
Collation of vacancy position from MDA
Processing and recruitment of applicants into the state civil service
Arranging for interview by placing an advertisement for vacancies in newspapers, television, radio and internet
Issuance of appointment letters successful applicants
Regularisation of appointments after six months of provisional appointments
Any duty assigned
The data from the Office of the head of service shows that Bindow followed the due process in employments especially the recent sacked teachers employed by Bindow and later sacked by the Fintiri administration.
A review of the employments performance indicators from 2015 to 2019 under Bindow as governor followed due process as spelt out above in the cause of investigating Fintir's claim that employments carried out by Bindow from 2016 to date did not follow due process
EXPERTS QUESTION FINTIRI'S CLAIM
Human resources experts told THE FINDER the current claim that employment done by Bindow did not follow due process by Fintiri is not in support of the governor's claim.
The Lead Director, Centre for Youths Empowerment, CEYE, Muyiwa Abonta, said the governor's claim did not find validation in the various reports published by the state civil service commission pertaining all the employments done by Sen. Bindow administration   over the years.
"Go and read the various process guiding employments even in the federal service to appreciate the difference. The governor's claim cannot be true," he said.
"Also, look at the historical employments done in the state civil service is in Unisom with what is currently been faulted by the Fintiri administration due to political differences.  Same Ibrahim 's committee that faulted Bindow for the employments done under his watch should know that he was part and parcel of the government and not only that he was a permanent secretary in a vital office like head of service, so he is also culpable in anything they perceived as illegality" Mr. Muyiwa said.