Governor Ahmadu Umaru Fintiri on Tuesday publicly blamed corona virus pandemic for the non-implementation of minimum wage/ consequential adjustment for civil servants from Grade level 8 upward in Adamawa.
Fintiri led government in Adamawa was foot dragging on the implementation of the new minimum wage in Adamawa prior to the outbreak of corona virus in Nigeria.

But the governor in a statement signed by his media aide, Solomon Kummangar said the state government could not implement the new minimum wage due to outbreak of corona virus, however the governor promised to pay immediately the virus is curtail.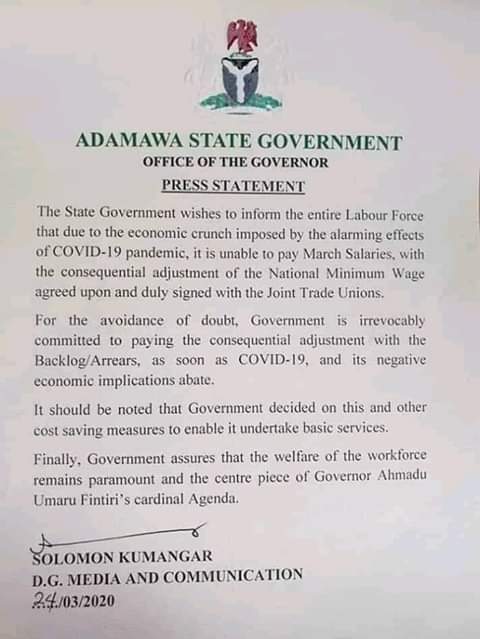 Reacting, the chairman, Adamawa first initiative, Ibrahim luka has condemn in strong term finitiri's claim for not paying minimum wage to workers, "we see no reason why Fintiri should not pay minimum wage in Adamawa due to corona virus, currently there is no capital project being executed by the Fintiri led government in Adamawa apart from the Bachure road that is not up to three kilometres.
"Since he came on board, Adamawa state government allegedly receives about 4 to 5 billion naira monthly from federation account in Abuja; the so called loan deduction is not up to a billion naira as claim by the state government, according to information obtained from ministry of finance, Abuja, loan deduction is about 500 million naira, state workers salary now is between 1.2 to 1.4 billion naira.
"How can he claim he can't pay the minimum wage due to corona virus, we are calling on labour leaders to mobilise and shut down the state economy as this is nothing but wickedness on the part of government that promised workers "fresh air".