Husseini Gambo Nakura, Chairman, Adamawa concern citizen, has been sued over the alleged forgery of call voice record of Governor Ahmadu Fintiri of Adamawa state.
Husseini Gambo Nakura was sued by the Adamawa Global trustees (AGT), a rights group.
According to the originating summons, the group claims that the governor did not issue single threat in the original conversion as contained in the audio released on social media by Husseini Gambo Nakura.
AGT asked the court to compel Husseini Gambo Nakura to produce the original call data record CVR between him and the governor or summon MTN to produce the original CVR.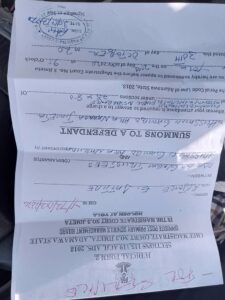 The Chairman, Adamawa concern citizen had claimed that Fintiri threatens him, a claim the governor's spokesman, Solomon Kumangar debunked, Husseini Gambo Nakura is the defendant in the suit filed at the Chief Magistrate court, Jimeta.
The group also asked the court to determine "whether, by the true interpretation of Section 75 and 80 of the administration of criminal justice act and the Adamawa state penal code, the defendant (Nakura) has not tempered with the original conversion between him and the governor to inciting the public and bring the office of the governor to public odium and ridicule.
"Whether the defendant has not altered the original conversion between him and the governor to cast the governor in a bad light".
ATG also requested an order directing MTN to present the original conversation between Naukra and the governor to prove, the defendant actually alter the call voice record CVR".