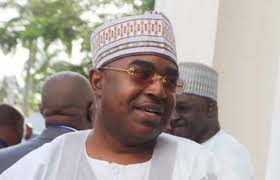 Former Secretary, Justice Frontiers Mr. Ikwurunyi Mapida has rebuffed Buba Marwa challenges to Gov. Bindow patriotism by the Abuja cabals saying that such allusions meant leaving substantive issues to chase shadows. He spoke in response to a claim by Buba Marwa,  that Adamawa residence wallop in poverty under Bindow's administration were false.

The statement had gone further to charge Adamawa residents not to be taken in by the narratives of those it called naysayers if the money meant to develop the state is not share within them. But responding last night, in a statement, Mr. Mapida said: "It is just another demonstration of the penchant of this member of the Abuja Cabal for leaving the substance to chase shadows.
The economic depression that enveloped the entire country is not known to Marwa, at the frequency of the prevailing dispensation of daily economic downturn those who wouldn't get the specifics and details mixed up. Maida "Bindow is not the President of
Nigeria nor he is responsible for the dwindling financial predicament the entire country found herself in, I want to make it clear to the Abuja Cabals that this mix up does not make Bindow the enemy of the people rather than the likes of the Abuja cabal who threatened Bindow to concede the monthly allocation from Abuja to their private pockets that are pained by the non availability of the state funds for it to be share among them.
In public accountability Who should the country worry more about between Bindow and those who hold the reins of government who are pointing attention at the speck in my eyes while ignoring the beam lodged permanently in their eyesight? This is yet another confirmation of the cruel and blundering insensitivity of Buba
Marwa and his cohorts from Abuja. "Buba Marwa, a chairman of presidential committee on drug abuse, has never hidden his antipathy towards the Mohammadu Bindow administration, but to be quoted during the botch town hall meeting held in Yola to ridicule Bindow's legacy and tell lies of the most heinous kind betrays a mind taken completely over by ill wishes against his own state.
Apparently, enemies of peace and progress had expected a return to the infamous past, thus Marwa appeared on the so called town hall meeting with his bag of lies. "When those on the programme remonstrated with him that they were not aware of any poverty that wallop Adamawa State under Bindow's watch that day, he stood his ground, all in a futile bid to puncture the successes recorded by government in the area of infrastructure, youths empowerment, Health etc. what would be the gain of anybody, except those who have become blinded by malediction and morbid wishes?
Is carnage something now to glory about? Is the struggle for power now so ghoulish that some people have lost their humanity over it? "Marwa and his ilk should realize that this is the only state we have, and we can't swallow poison and expect it to kill the next person. What we sow is what we reap. "Happily,
however, those for a peaceful, united and cohesive Adamawa are more than those against it. That is why those with baleful, hateful thoughts would never win. "The tripod goals of securing the state, youths empowerment, and infrastructure developemntare central to the Bindow administration. Government is making strides in the three areas, and the conquests continue."