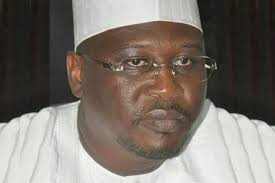 Media reports that Adamawa gov-elect, Umaru Ahmad Fintiri was quoted to have said that every state in Nigeria has paid April salary exception of Adamawa State is False, THE FINDER check has shown.
Reacting to Fintiri's claim of accusing Gov. Bindow of not paying salary when he is still the signatory to the state account is unfortunate on the part of Adamawa gov-elect.

In a statement signed on their behalf by the Chairman of Adamawa United for change the organisations said the campaign of calumny lunch by Adamawa gov elect against Bindow gave credence to their earlier warning to Bindow to be ready for media propaganda the gov elect is planning to unleash on Bindow's administration.
"We unequivocally wish to state that it is very improper for the gov elect to start his government on pointing fingers and making unguarded statement against Bindow not paying salary when he Fintiri knows that Bindow fails to pay April salary due to the sabotage he face from the warning he (Fintiri) gave to the banks through a statement released by his media office that Bindow should not be given loans or overdraft.
Fact check shows that Bauchi and Gombe state have not paid April salary including Benue, Kogi, Kwara, Ogun and Oyo State.
"we all know that without overdraft two months' salary must be combined to pay one month salary in Adamawa State, if Fintiri has the interest of Adamawa at heart as he is claiming why not join hands with Bindow to effect the payment of April salary by talking to Zenith bank to oblige the overdraft request of Bindow not looking for a scape goat to blame like that statement credited to him by media reports.
"While we wish Fintiri well in his new assignment as governor of Adamawa come May 29th, we equally want to remind him to focus on paying the 32000 minimum wage he promised Adamawa workers than blaming Bindow's administration for nothing".