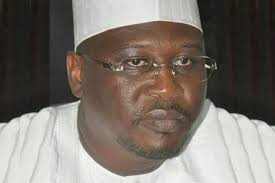 Former Secretary Justice frontiers, Mapida Ikwurunyi has dismissed the recent story aired by Gotel television claiming that Adamawa state governor, Umaru Fintiri visit sambisa forest in bid to check the activities of Shila boys in Adamawa.
In a statement issued from his media office, Ikwurunyi described Gotel television claims as the shedding of crocodile tears by claiming Fintiri visit sambisa forest, "it is unfortunate for Gotel Tv to air controversial stories of this kind to discerning minds, it will be interpreted the governor truly visited sambisa forest, how can Gotel tv claimed jimeta bypass is now a sambisa forest? We all know that sambisa forest is located in Borno state not Jimeta bypass".

"We view this report by Gotel tv as reckless and unfortunate, we are not against Gotel tv airing and working with Fintiri, but to deceived Adamawa people with sambisa forest claim is highly insensitive on the part of Gotel Tv".
"We are happy that the governor met a huge refuse dump in Jimeta bypass during the so called visit sambisa to forest, he never made any attempt to direct the ministry of environment to do anything about it, only for him to carry out a window show to the bypass for the people to know that he visited Gotel Tv claim sambisa forest in jimeta bypass".
"We urged Adamawa residents to disregard this fake sambisa visit by Gov. Fintiri as such forest does not exist on jimeta bypass but Borno state, he only visited Shila enclave in Jimeta bypass not sambisa as propagated by Gotel tv".
The secretary in a statement urged Nigerians and Adamawa residents to ignore the unholy alliance of Adamawa state government and Gotel Tv who are stepping up their assault on the senses of Adamawa residents in a bid to actualise their so called "fresh Air" slogan in the state.