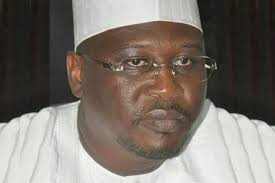 The secretary Justice frontiers, Mapida Ikwurunyi has hailed President Buhari for given approval for the immediate implementation of the 30,000 minimum wage to Nigeria workers, Ikwurunyi admonish Gov. Fintiri of Adamawa state to commence payment of the long awaited 32000 minimum wage promised he made to the workers during the last governorship campaign in the state.
In a statement by his media aide, Mathias Pwasato Ikwurunyi said "Fintiri has no escape route of using the Federal government as an alibi for not implementing the 32000 minimum wage he promised, the coast is clear now for Fintiri now to commence the payment of the 32000.

Apart from the payment of the 32000 he promised, he has to pay all the minimum wage arrears from April, it is unfortunate that since he came into office no single project has been awarded, Bindow awarded over seven roads within 30 days in office as governor despite inheriting 900 million and months' salary from his predecessor, Bala Ngillari.
Fintiri was lucky as he inherited only two months' salary and over 8 billion in the state government account with Zenith bank from Bindow, so we wonder why the foot dragging and the blame game, this shows Fintiri's administration lacks policy direction as we are doomed already.
What about the much touted leave grants he promised to pay? We are challenging him to mention one time he has done differently from what Bindow has done for the people in the last four years in Adamawa, we expect nothing less than the payment of the 32000 minimum wage this month" the statement said.