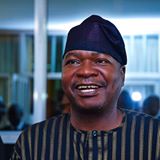 The claim by the director general media to Gov. Fintiri of Adamawa state, Solomon Kumangar that employments under B indow did not follow due process and that there was nothing like advertisement for employments under Bindow is false, an investigation by THE FINDER has shown.
Also untrue, our findings show, is Mr. Kumangars's claim that Senator Bindow grant waiver without following due process.

In his controversial interview penultimate week on Radio Fombina, Kumangar has accused Senator Bindow of granting waiver illegally and that all employments made under Bindow's administration did not follow procedure.
But in a curious move, Mr. Kumanagar, was aslo promoted to a rank of a director under Bindow's watch which Kumangar himself sees nothing with his promotion, but turn around to hoodwink the people of Adamawa into believing that all actions of Bindow in office as governor was wrong exception of his promotion and the transfer of his service from ATV to ministry of Education.
Our findings showed that the employments carried out under the watch of Senator Bindow followed Due Process, as one of the last employments made by Senator Bindow which started last year October to employ teachers was advertise through THE FINDER NEWSPAPER, ATV YOLA and the state radio, the advert was aired for over two weeks by prints and electronic media in the state.
Those familiar with waiver procedures in Adamawa state said there was no way any ministry will go ahead to employ without seeking approval from the governor and that it was not the duty of Bindow to advertise but the beneficiary or the ministry to which waiver was granted to.
The due process is that before employments is made, they should go first to the governor to seek waiver, But THE FINDER can report authoritatively today that Mr. Kumangar was economical with the truth as far as this particular employement is concerned.
The employment was neither done illegally as youths from the 21 local governments of the state converged in Yola for the said teacher's employment under Bindow, before the recent suspend/cancellation done by Fintiri led government.
CONCLUSION: Mr. Kumagars's allegations on Bindow does not support his claim that employments done under Bindow was done in breach of due process.
Documents reviewed by this newspaper as well as interviews with those who should know also indicate that Bindow's administration followed due process in the award of the employments letters to teachers suspended by Fintiri.
They also showed that it was the duty of Bindow to advertised employments but the ministry and the agency concerned.