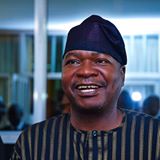 The secretary justice frontier, Mapida Ikwurinyi has lambasted the director general media to Gov. Fintiri of Adamawa state, Solomon Kumangar over incessant attack on the personality of Senator Bindow.
Mapida through his media adviser, Mathias Pwasaato challenged Solomon Kumangar to tell Adamawa people all the good things Sen. Bindow has done for him while he holds way as the governor of Adamawa or risk been expose.

"We wonder why Kumangar that benefited immensely from the former governor will turn around to make unguarded statements against the governor, we are warning Kumangar to desist from the personal attack against Sen. Bindow henceforth or will expose all the good deeds he received from the former governor".     
"The attack from Kumangar shows he is persona non grata, because nobody can haul insult on his benefactor the way Kumangar is going about this particular issue"
"Kumangar should know that Sen. Bindow has never been a guest of the EFCC or been in court with any anti-graft agency anywhere".
More details soon