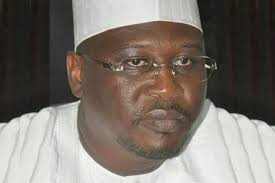 "Fintiri should learn from Gombe that has Federal University, State University and State University of Technology in Kumo "
The Chairman Adamawa First Initiative, Ibrahim Luka has reacted to news making round that Adamawa state governor, Umaru Fintiri is planning to make a plea to President Buhari to convert Moddibbo Adamawa University of Technology, Yola (Mautech) to a conventional university.

In a statement by his media, Mathias Pwasaato, Luka condemn in strong term the ill advice plan of Gov. Fintiri to approach Mr. President to solicits for the conversion of a technology university to conventional University when the whole world is been driven by technology
"It is unfortunate Gov. Fintiri who claims that he value education will be thinking on how to change the status quo instead of concentrating on how to make the state University a world class study centre, he should have learn from Gombe state government that enter into alliance with Federal Medical centre to established Federal teaching hospital in Gombe, the Gombe state government went ahead to established university of technology in Kumo.
Because they know the important of technology in this modern age, how can any reasonable government be appealing for conversion of a technology university to a conventional university when Fintiri have the powers to establish Medical Univeristy if he want.
   Read Full statement below:
"The desire to convert FUTY into a regular university simply for the sole purpose of wanting a Medical School, only shows the level of deficiency of ideas and ignorance at the top echelon of governance in the state. In a world that is technological driven and is sustained by scientifically trained individuals, reverting FUTY into a regular university is a slap and a catastrophic insult to the people of Adamawa State.
It sends among other messages that, Adamawa indigenes are not good enough to imbibe science and technology or did they deserve the University in the first place. What stops this government from raising the standards of learning in its elementary and secondary schools, so as to meet or raise the standards of students who apply for admission at FUTY? What stops this government from owning to its responsibilities to its own university, Adsu, Mubi to put things right there and establish a befitting Medical College and Teaching Hospital for its people?
Why passing the buck? Didn't this government say, they will solve the problems overnight? What is new in a state university having a teaching hospital and Medical College?  Have other states of the federation not gone far beyond these? Don't we have states which own more than two universities in Nigeria?  It beats my imagination that, the so called elites of Adamawa stoop so low to accept an idea that belittles their people and themselves. The intelligence of Adamawa citizens is not only been put to trial, but is also sentenced to "historical ignominy" What is in a teaching hospital?  How about a faculty of Medical or Clinical technology in FUTY?  Has not technology taken over medicine now?  Has anyone in this government heard that, artificial hearts, kidneys and others organs of the body are being produced now in parts of the world?
What about cars that uses sunlight, and removing Adamawa from the National electricity grid?  What about a state owned railway system connecting all local government areas of the state? What about developing industries to employ its teeming youth population?  Will it be foolhardy if FUTY produces such? Under Bindow, people complained of being in frying pan, but this is fire".