Gov. Umaru Ahmadu Fintiri has convinced many of his followers and even some in the mainstream media that "at least" he has kept his promises. This is true on only one issue — making promises and giving self-imaginary credit of performance since eight months in office without anything on ground to justify his claim of performance. And if by his mean, promises of better workers welfare during the campaign, his followers took him to be promising to be the most promise making governor in modern history; I guess he remained true to his base.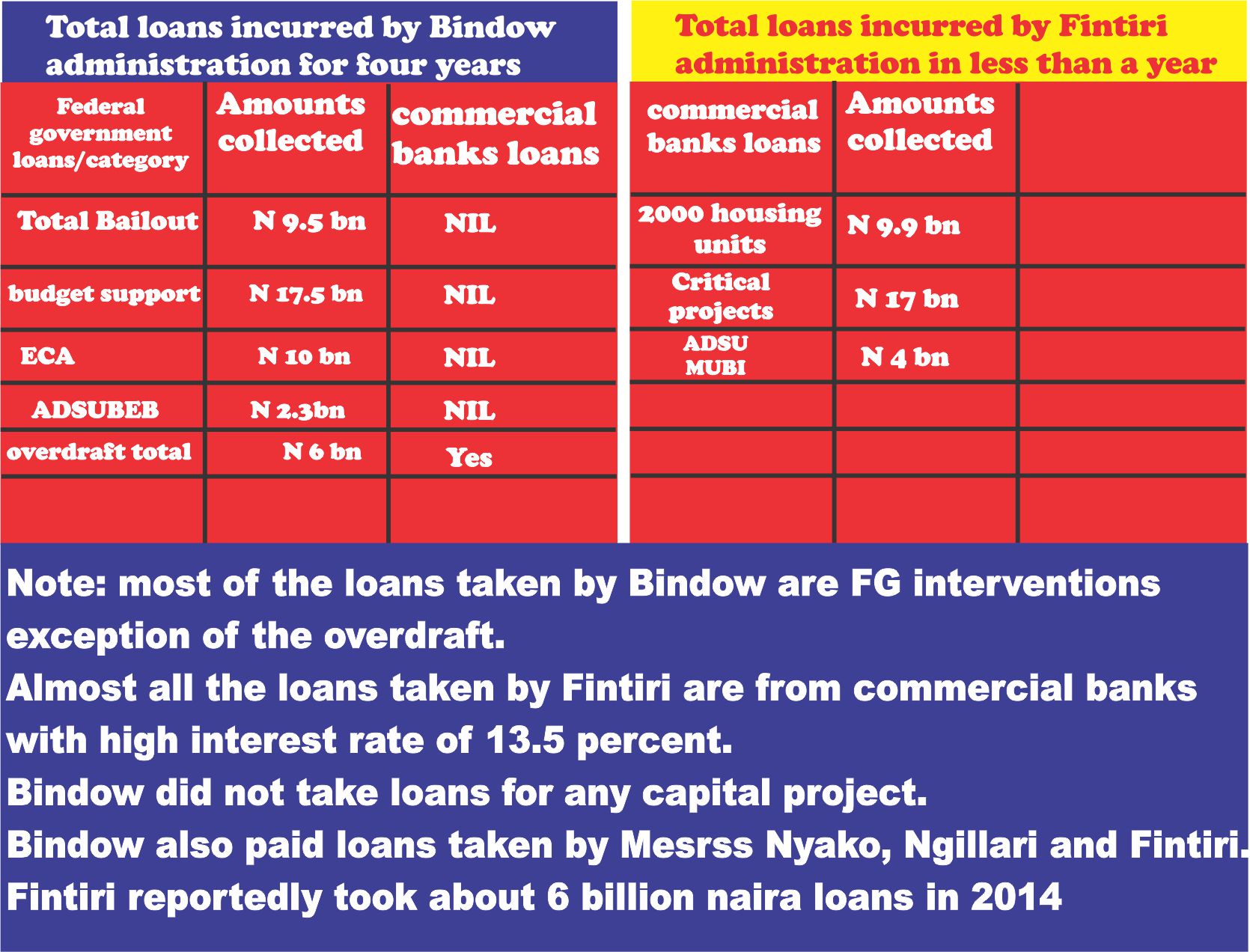 But the stack of broken promises has grown higher and higher. His promised 2000 housing units for workers really hasn't been built yet and won't be paid for by federal government.
The conservative FINDER recently reported that "his administration has not built any of the 2000 housing units he promised and took 9.9billion naira loan for such projects since coming on board, completing only some the projects left Behind by Sen. Bindow." There was arguably no more important issue to his core supporters.
He had no fabulous alternative to the problem bedevilling Adamawa state, as he assured voters. His workers welfare and the people's welfare promise didn't produce fast, positive results as he claimed. He didn't reduce or eliminate the debt. To the contrary, he took 9.9 billion loans on assumption of office.
The most serious commitment he made, since he's such a successful businessman and politician and all, was to bring on an economic boom beyond what his predecessor accomplished, especially for the "forgotten men and women."
But even before we get to worrying new economic data, Fintiri has failed to fulfil his basic pledge to do better than Gov. Bindow. With 15 charts to document the economic progress, The Finder recently reported, "Government debt and the trade deficit are climbing (while most economists don't worry about the rising Adamawa debt profile under Fintiri, Fintiri made it a central part of his 2019 election campaign.
The number of Adamawa residents lacking health insurance is also ticking up slightly." In addition, on stocks and jobs, about which Fintiri constantly brags, "there is a case to be made that those looked better under Bindow, although most economists and Adamawa residents expected job gains to their surprise Fintiri came and fired half of the state workforce hiding under "due process",
Recent reports only strengthen the argument against Fintiri's "promises made, promises kept". He promised to protect worker's interest. Staff welfare and remuneration is collapsing. FINDER News reports, "Adamawa state under Fintiri said it is laying off about workers, citing a 'multitude of factors." These cuts could continue for more than six months.
The Finder reports that Fintiri made about 10 new promises weekly without fulfilling any of the promises made, in 2019 alone the governor made about 69 promises and same continue in 2020 with about 10 new promises since January 1 till date.
The narrative that Fintiri has kept faith with his base is false. APC would do well to focus on pointing this out.