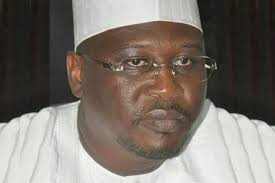 . Group blasts Fintiri transition committee secretary over AADIL sales claim
 Chieftain of  All Progressives Congress (APC) in Adamawa State, Mr. Abdulkhadeer Yakubu Lambam has admonished the governor elect transition committee secretary, John Yahaya, to accept his failure as the secretary of a confuse and incompetent committee in Adamawa history.
Lambam spoke at a press briefing in Yola, Saturday, addressing Fintiri transition committee member "malignant and calculated outburst," alleging that "some officials of the outgoing administration have embarked on illegal and unauthorised auctioning of government properties to themselves, their cronies and unsuspecting members of the public.
It is most despicable that a government which has been taking overdraft to pay salaries since inception, will suddenly turn welfarist by promising to pay the N30,000 minimum wage to workers even when the process is yet to completed by the Revenue Mobilisation and Fiscal Commission".
Secretary of Fintiri's transition committee had in his interview with pressmen accused Bindow of plotting to incite Adamawa workers on Fintiri over the minimum wage pledge. John Yahya also tried to make political capital of the minimum wage promised Adamawa State workers by Gov. Bindow.
Lambam said: "I listened to our governor elect committee Secretary today. Again, like the child he is, rant and say Bindow have been using over draft to pay salary and so he couldn't have use same overdraft to pay the new minimum wage.
Adamawa workers knows now that they have enter one chance bus by falling into the antics of the promoters of "fresh Air" advocate, if not how can Fintiri that promise the workers minimum wage make uturn to wait for Revenue Mobilisation and Fiscal Commission before implementing the promised he made to workers before the general election?
Lambam wondered why "Fintiri is trying so hard to back track on the 32000 minimum wage he promised the workers. He also called on the gov-elect transition committee to exonerate itself from being accused of  being incompetent and lacking in experience needed to be member of such a vital committee that will ushered in a new government by 29 May.
"An example is the fact that this committee wake everyday with different allegations against Bindow's government, they have since forgotten that transition committee is not a probe panel, but they continue in this focus less direction of misleading unsuspecting member of the public that Bindow is doing this and that just to score cheap political point and please their pay master".
"Why is Fintiri avoiding most of the promise he made during the election? Why are they afraid of Bindow paying the 30000 minimum wage?  if he is that popular; why is Fintiri through his transition committee using false hood to tarnish the image of Gov. Bindow? That's the question to ask. But like I told Adamawa people, it is not over until it is over.
"We are advising Fintiri to focus on paying the 32000 minimum wage he promises the people, not accusing Bindow of try to sell AADIL to his cronies, Fintiri is not yet sworn in as governor, but governance has already overwhelmed him.