The Chairman, Adamawa First initiative, Mr. Ibrahim Luka has advised Bindow's successor, Gov. Umaru Ahmad Fintiri to leave Bindow alone and face governance.
Ibrahim's advice followed a statement credited to a permanent secretary in the office of head of service of Adamawa state during the submission of a committee setup by Gov. Fintiri to verify all the employments carried out by Bindow's administration in Adamawa.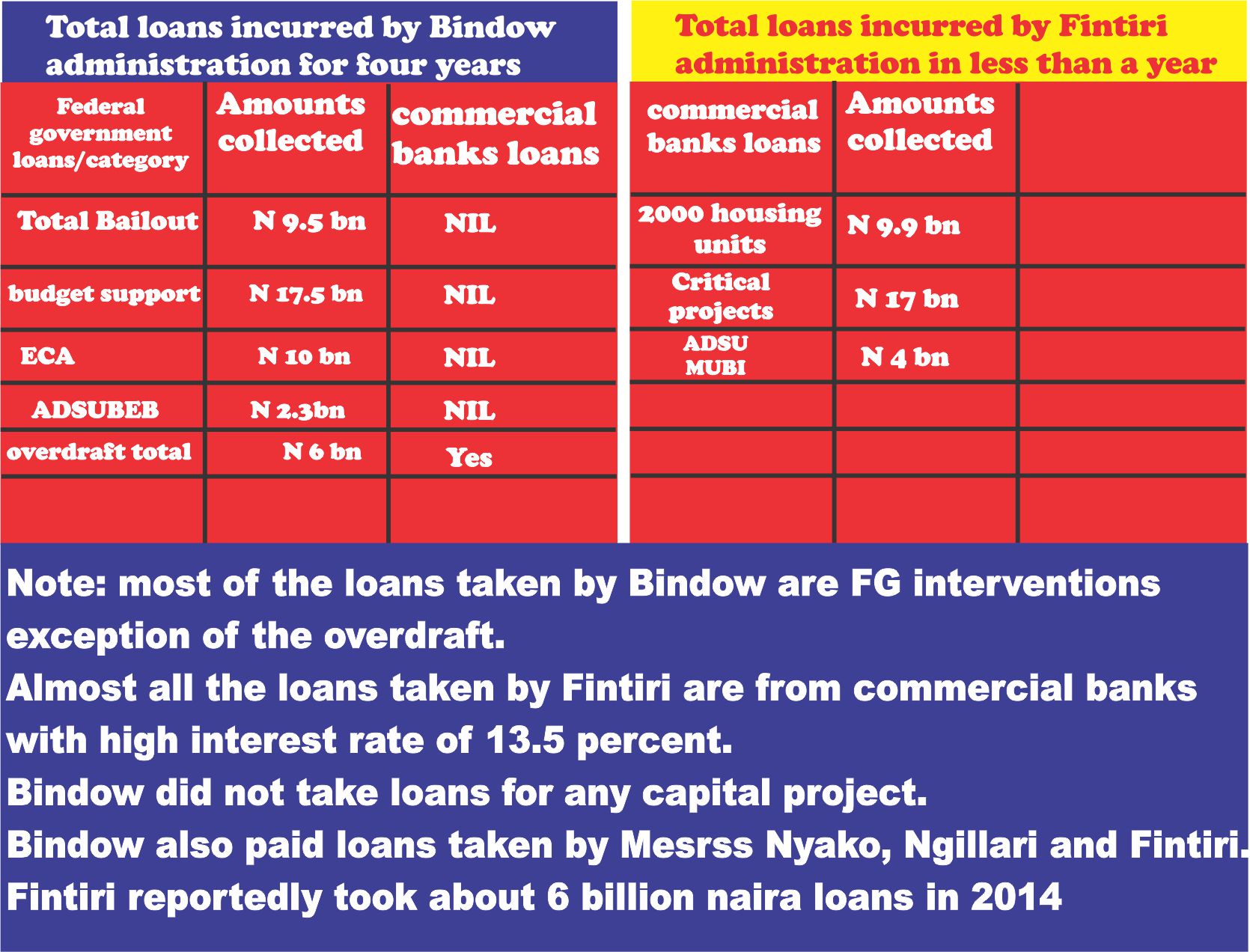 According to news report, Mr Emmanuel Ibrahim, Permanent Secretary Administration office of the HOS Adamawa State claimed that Sen. Bindow employed over 3000 staff in the public service in Adamawa state without due process".
But, Luka, who reacted to that statement, advised Governor Fintiri to face governance and stop abusing Bindow, saying that the whole thing was becoming childish and has brought Fintiri's "fresh air" to public opprobrium and ridicule.
Ibrahim Luka, said the reason Fintiri was always complaining about Bindow's administration was because "Fintiri is governing Adamawa State with a stolen mandate. Since then, he has never slept with his two eyes closed. He has remained haunted by that electoral mishap.
"What happened in Yola during the submission of the committee reports is nothing but a charade and an attempt to hoodwink and divert the people of Adamawa attention from raising question about what happening to the 9.9 billion naira loan the state government applied for and the failure of the Fintiri led government to implement the 32000 minimum wage and so they resulted to name calling and campaign of calumny against Sen. Bindow.
It is unfortunate that Gov. Fintiri will use the committee to tarnish the image of former senator and a governor, a feat that is yet to be accomplished by the governor himself, we are calling on all sons and daughters of the state to ignore the public show of shame by the Permanent Secretary, Mr. Ibrahim Emmanuel who we believe made those utterances due to fear of sack that grips the entire perm. Secs in Adamawa, the committee report is nothing but a get-together by the PDP bigwigs and they were assembled by Governor Fintiri to abuse the former governor, Senator Jibrilla Bindow, the APC and the Party's leadership at all levels.
According to Ibrahim, Fintiri's major achievement in the past seven months was the constant abuse of Bindow "because he is cowed or intimidated by Bindow's existing achievements. He can't cope and has no other option than to resort to abuses and setting up a tele guided committee to ridicule Bindow".
"Over seven months now all we hear is "lack of due process" we challenge Fintiri and his supporters to define what they meant by due process to the people of Adamawa or leave Bindow alone.